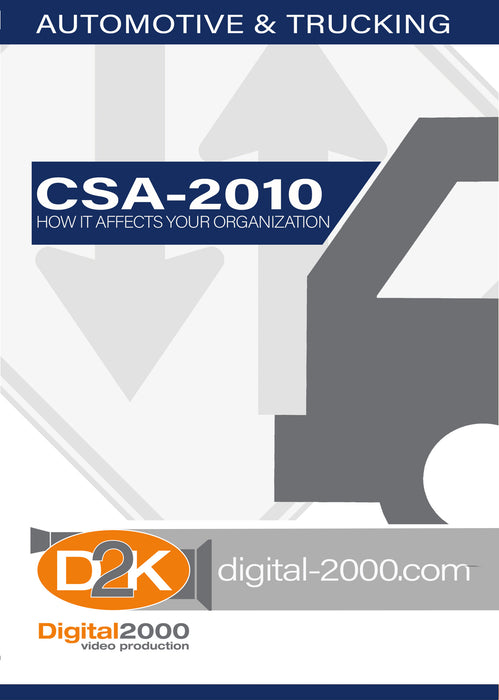 Federal Motor Carrier Safety Administration's (FMCSA) compliance and safety programs improve and promote safety performance and save lives. Comprehensive Safety Analysis (CSA) 2010 builds on FMCSA's current processes for assessing and improving the safety performance of motor carriers and drivers through a new safety measurement system and a new suite of tools. This program explains how CSA 2010 changes the existing enforcement and compliance business process to better view how large commercial motor vehicle carriers and drivers are complying with safety rules and to intervene earlier with those who are not.
Key Words: Comprehensive Safety Analysis (CSA), Enforcement, Compliance, Safety Rules, Safety Programs, Safety Performance, Safety Video, Safety Training, Safety DVD.
Course Outline
Comprehensive Safety Analysis (CSA)
Safety Measurement System
CSA 2010 Basics
Training
Carrier Requirements
Early Contact
Investigations
How CSA 2010 Affects You
Runtime: 15 Min.
WITH PURCHASE OF ANY ENGLISH DVD YOU WILL RECEIVE A FREE WRITTEN MATERIAL CD-Rom. The CD-ROM of written materials may include: Leaders Guides, Questions and Answers, Manuals, and Power Points. Contents vary depending on program.