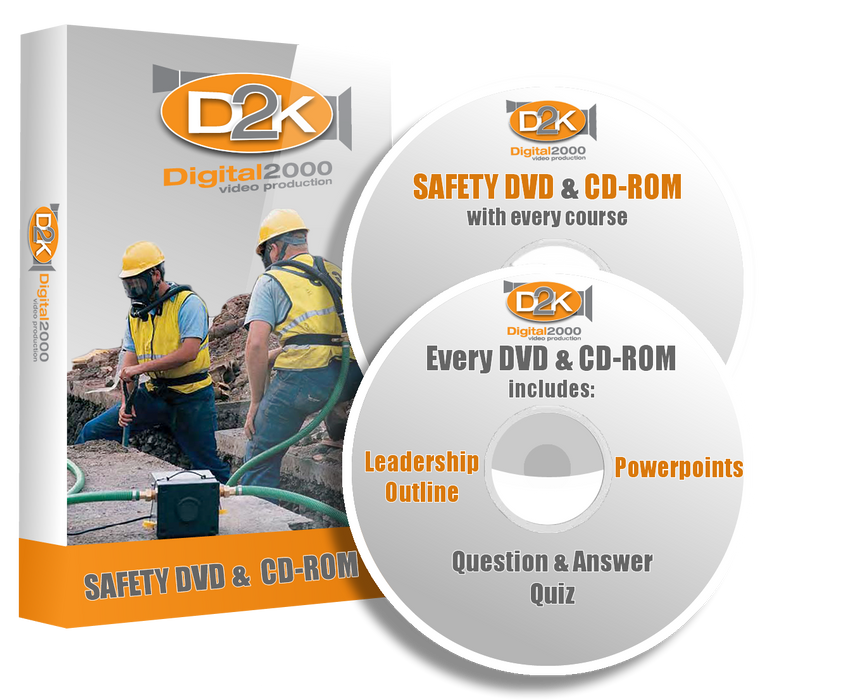 Construction Safety Training Videos Package
1002H CHAINS, CRANES, HOIST, AND SLINGS
VIEW COURSE
Chains, Cranes, Hoist, and Slings program illustrates the proper use and maintenance of cranes and lifting devices with emphasis on safety. Safety around hoisting equipment is extremely important because one little mistake can be disastrous.
1007F CHEMICAL SAFETY 
VIEW COURSE
It is important to be informed and aware of chemicals and chemical safety. This program is designed to help the viewer understand more about chemicals and chemical safety.
1020F ASBESTOS AWARENESS
VIEW COURSE
Asbestos is not harmful unless inhaled. Non-flyable or non-crumbling asbestos is not a direct health threat. Many older homes and buildings contain asbestos. It is more of a risk to remove asbestos than leaving it alone.
C001M CONFINED SPACE ENTRY
VIEW COURSE
Confined space entry must be approached with a professional attitude and a methodical system designed to prevent situations from escalating into a disaster. The National Institute for Occupational Safety & Health (NIOSH) found that in more than 50% of confined space accidents, the rescuer becomes the victim. NIOSH also found that very few organizations provided written procedures.
C001P PERSONAL PROTECTIVE EQUIPMENT
VIEW COURSE
Personal Protective Equipment is provided by the company. The right choice is for the worker to make sure the appropriate protective equipment is worn when performing tasks that are hazardous.
C002E GROUND FAULT CIRCUIT INTERRUPTER (GFCI)  
VIEW COURSE
Insulation and grounding are two recognized means of preventing injury during electrical equipment operation. Grounding may be achieved through the use of a direct connection to a known ground such as a metal cold water pipe.
C002G BASIC ELECTRICAL SAFETY IN THE WORKPLACE 
VIEW COURSE
The different types of electric energy are low, high and static voltage. This program is designed to make you more aware of electrical safety. This program gives a basic understanding of electricity.
C002H HAZARDOUS MATERIALS SPILL - CLEAN UP 
VIEW COURSE
Many materials you work with may be classified as hazardous. That's why all spills, no matter how small, must be taken seriously. Hazardous material can endanger your health or life and of others. Plans and preparations, along with a practiced response to spills, should be done in advance of an emergency.
C002P EYE PROTECTION
VIEW COURSE
All eye hazards in the workplace can be eliminated if eye protection is worn. Natural defenses protect the eyes from minor injuries but are not sufficient protection from heavy exposures that exist in the industry. The program covers eye hazards and types of eye protection with emphasis on safety.
C003E HAND AND POWER TOOL SAFETY
VIEW COURSE
Hand and power tools cause thousands of injuries every year. A simple screwdriver causes over a hundred deaths each year. The injury rate tells us that safety awareness is important when using these tools.
C003G LIFTING SAFELY IN CONSTRUCTION
VIEW COURSE
According to the National Safety Council and medical research, 70% of backaches are the result of degeneration of spinal discs. You probably heard the warning bend your knees and lift with your legs. Back injuries can be prevented, it's up to you.
C003P HEARING CONSERVATION
VIEW COURSE
There are an estimated 33 million people in the U.S. with hearing loss enough to affect their daily activities. Occupational-related noise exposure accounts for 11 million cases of hearing loss. Another 36 to 37 million people suffer from tinnitus, which is a chronic ringing in the ears.
C004E LADDER SAFETY
VIEW COURSE
Thousands of individuals are injured from falling off a ladder each year. Most injuries are caused by slipping on grease, oil, and solvents left on the rungs and sides of the ladder. The ladder should be inspected before use.
C004P HEAT STRESS AWARENESS AND PREVENTION
VIEW COURSE
During summertime, the risk of heat illness or dying of over-exposure from the effects of heat becomes greater. Workers whose jobs are outside are at risk as well as professional athletes
C005P RESPIRATORS AND HOW TO USE THEM
VIEW COURSE
Respiratory protection and self-contained breathing apparatus are used to protect from harmful gases, fumes, and chemicals. Training is required on the use and proper fit of respirators.
C006P HOW TO FIT TEST RESPIRATORS
VIEW COURSE
There are a variety of gases, fumes, vapors, dust, mists, and other potentially hazardous materials in many industries. Protection from health hazards is a goal of all employers and employees.
C007P FALL PROTECTION & SAFETY
VIEW COURSE
There are various types of fall protection such as guardrails, safety nets and covers for open surfaces. Falls from any height can cause serious injury. OSHA requires fall protection if work is done at six feet or higher.
C008E FORKLIFT OPERATOR SAFETY
VIEW COURSE
Forklifts can save time on your job when used safely. A forklift professional does not cause property damage or injuries. Operators are expected to have the maturity and responsibility to operate a forklift efficiently and safely.
C008G FIRE EXTINGUISHER SAFETY
VIEW COURSE
Not everyone understands or knows how to use fire extinguishers. There are different extinguishers for each type of fire. The object of fire extinguisher training is to save lives.
C008H LEAD SAFETY IN CONSTRUCTION
VIEW COURSE
Lead can stay in your body for years causing serious health effects that may not be treatable. Over-exposure of lead by workers in many industries is a major concern. Lead can be found in the air at home in paint, dishware, water, lead sadder used in plumbing.
C008P A PRIMER ON FALL PROTECTION
VIEW COURSE
Fall prevention has been a major concern for many with recent statistics reported by the Bureau of Labor Statistics revealing that fatal falls were down 25% from a high of 847 in 2007.
C009M BLOODBORNE PATHOGENS
VIEW COURSE
Great strides have been made in promoting knowledge about bloodborne pathogens. Training programs are designed to educate and provide awareness of the protective measures used to avoid exposure to bloodborne pathogens.
C009P PREVENTING ELECTROCUTIONS
VIEW COURSE
Electricity is measured in units of energy called watts. Watts is defined as the amount of power an appliance uses when operated at its maximum capacity for one hour. Within the home or work, it is typical to have conductors covered with an insulator such as rubber-covered electric cord; however, this does not guarantee safety.
C010E ARC WELDING SAFETY
VIEW COURSE
Every company is responsible for developing specific guidelines, policies, and procedures. Welding is a safe operation if you follow procedures and not take shortcuts.
C013E PORTABLE GRINDERS AND ABRASIVE WHEELS
VIEW COURSE
There are portable, fixed and bench grinders which come in contact with rotating abrasive wheels or disks. Rules, procedures and protective equipment are essential in making your job safe. If you follow the rules, this equipment can be safe.
C013G PREVENTING BACK INJURIES THROUGH EXERCISE
VIEW COURSE
Working is great exercise! The more you work and the more motion you give your body, the better you will feel. This program focuses on reducing the chances of back injuries.
C016G PERMITS
VIEW COURSE
Work safety permits are designed for the safety of those working on a project or employees working near a particular project. The purpose of safety is to make sure personnel and equipment are protected and safety procedures communicated with all personnel.
C018E SCISSOR LIFT SAFETY
VIEW COURSE
More construction workers die from falling from a height above six feet. General construction averaged eight scissor lift related deaths each year.
C021E AERIAL LIFT SAFETY
VIEW COURSE
It is important to know and understand the capabilities and limitations of the aerial lift. It is your responsibility to make sure you are properly trained and authorized by your company before you attempt to operate this equipment.
C022E FRONT END LOADER SAFETY
VIEW COURSE
Front-end loaders come in all sizes and shapes which include track loaders, skid steer, backhoe loaders, and tractor loaders. Loaders are often misused by stretching the lifting capacity and failure to follow safety procedures.