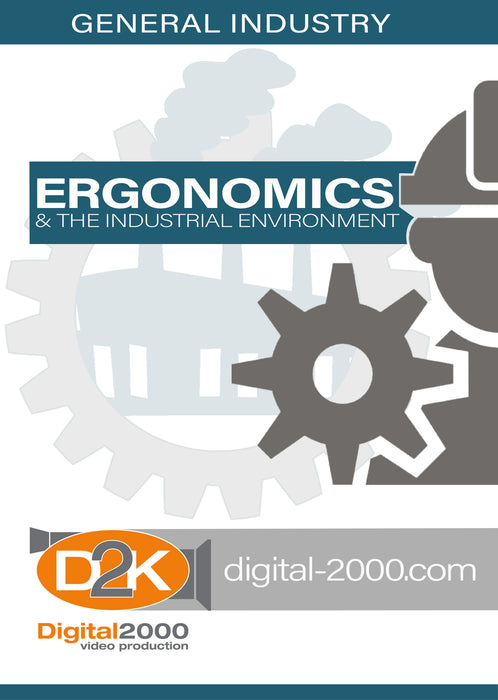 Industrial Ergonomics Safety Training Video
Ergonomics and the Industrial Environment course outlines the approach most commonly recommended for identifying and correcting ergonomic problems. It provides basic information that will be useful for employers, workers and others in designing effective programs to prevent Work-Related Musculoskeletal Disorders (WMSDs) in an industrial environment. This course addresses one of the most prevalent and costly safety and health problems in the modern workplace and provides useful information for putting a program into place. .
Key Words: Ergonomics in Industrial Environment, Identify and Correct Ergonomic Problems, Prevent Work-Related Musculoskeletal Disorders, Safety and Health Problems, Training Program, Industrial Safety Program, Improvements in Ergonomics, Safety Video, Safety Training, Safety DVD.
Course Outline
Background
Defining Ergonomics
Ergonomic Program
Problem Recognition
Employee Training
Gathering Workplace Ergonomic Data
Developing Workplace Controls
Administrative Controls
Personal Protective Equipment (PPE)
Healthcare Management
Minimizing Known Risk Factors
Controlling Workplace Hazards
Occupational and Personal Risk Factors
General Workstation Design Principles
Design Principles for repetitive Hand and Wrist Tasks
Design Principles for Lifting and Lowering Tasks
Design Principles for Pushing and Pulling Tasks
Breaks and Personal Exercises
Your Safety Program
Runtime: 33 Min.
WITH PURCHASE OF ANY ENGLISH DVD YOU WILL RECEIVE A FREE WRITTEN MATERIAL CD-Rom. The CD-ROM of written materials may include: Leaders Guides, Questions and Answers, Manuals, and Power Points. Contents vary depending on program.